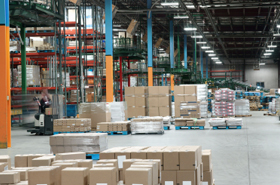 WAREHOUSE – WAREHOUSE LOGISTICS
SAFETY IS PARAMOUNT
Warehouse logistics
A MATTER OF TRUST!
10,000 m² WAREHOUSE SPACE at a central location in Vienna

We offer you:
DOMESTIC WAREHOUSE
BONDED WAREHOUSE
TEMPERED WAREHOUSE
WINE WAREHOUSE
OPEN WAREHOUSE AREAS
GUARD SERVICE 24/7 AND VIDEO MONITORING!
Our employees have been with us for many years (no personnel leasing companies) and know what it all comes down to.
Precision, circumspection and experience is a major component for precise work in this area.
Sophisticated warehouse management is the basis for controlling the optimum acquisition and sales flow.
Extensive shipping logistics service:
Production, distribution logistics and spare parts logistics
Warehouse maintenance with FIFO, batches and MHD (shelf life) administration
Assembly of components according to a parts list
Just-in-time delivery (JIT), KANBAN with 24h service
Disposal, returns
Shipment planning and replenishment control
Inventory controlling, supply chain management (SCM)
What else can we do for you?
Stocking function – warehousing helps to ensure a business is prepared to sell. A company must always have a certain quantity of goods on stock to cover the needs of the customers without delay.
Bridging the time – compensating for the period between production and sale to the customer.
Buffer function
Benefitting from price advantages – you can take advantage of savings by warehousing. If, for example, a retailer provides volume discounts, this can be used to their full extent and goods not sold immediately can be stored in the warehouse

MHM COMPETENCE IN LOGISTICS!
You need help?
Just contact us at
+43 1 29 199 0
Stock levels query
Please contact our employees regarding an online access